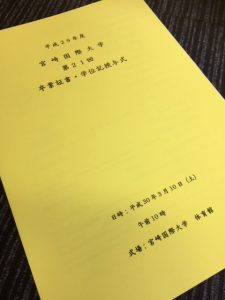 Tomorrow is our 21st graduation ceremony and today everyone is very busy preparing and rehearsing for tomorrow.
Also, we will have TC certificates handled to students in a small ceremony and later, thesis highest honors certificates.
Of course these are not the only things going on. Today students will be trying the gowns and filling up an exit survey among other things.
I am sure a lot of people will be crying tomorrow, so I hope I can write a speech that can cheer everyone up.